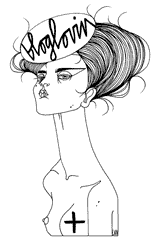 If you're an avid reader of blogs like myself, you'll understand how hard it is to keep all of your favourite blogs organised- I've read through a blog many a time which I loved, but had no means of following- so I eventually lose track and forget about it.
A handy solution to this is Bloglovin! This nifty little website keeps all of your favourite blogs together on one page, no matter what the host/platform is. It's helped me keep track of my favourite blogs for ages now and means I never forget about any hidden gems, too.
You can follow DEATH BY LIPSTICK on Bloglovin by clicking the widget on the sidebar or on the picture above.
Happy Blogging!